Creating sustainable and comprehensive
innovations for livestock and pets
Creating sustainable and comprehensive
innovations for livestock and pets
SMEs Excellence Awards 2020
         At the end of 2020, Thailand Management Association (TMA) and Sasin Graduate Institute of Business Administration of Chulalongkorn University co-organized a contest to win royal awards  "SMEs Excellence Awards" and "Thailand Corporate Excellence Awards".  The contest aimed to drive and inspire all entrepreneurs to enhance their competitive advantages which will help foster Thai economy to grow sustainably.  
         For the organization selection process for the SMEs Excellence Awards, after the banks selected small and medium enterprises (SMEs) that operate in the manufacturing, service, or retail and wholesale industry with exceptional management systems, each SMEs also submitted organizational information and management practices to the committee for consideration. There were several organizations that have passed the standard scores to visit and process the scores for a second round. The committee, then, has considered SMEs with excellence in organizational management in various fields to receive the royal award.
          Smart Vet Co., Ltd. won the SMEs Excellence Awards 2020 in the retail and wholesale category (Trading) which is a royal award given on behalf of the prestigious Her Royal Highness Princess Maha Chakri Sirindhorn and given by the prime minister "Prayuth Chan-ocha". This award ensures outstanding management systems of the company among retail and wholesale industry organizations. This became another pride that drove the company to create, develop, and improve its management systems to be current and always up-to-date, which will help the company to meet the needs of an improvement in business competitiveness that will support the economy of Thailand to grow sustainably both now and in the future.
Credits: Prachachat.net (online), November 30, 2020
          Smart Tec, Co.,Ltd., one of Smart Vet Group of companies, runs business on research and development, operating like an upstream of the Group's business. The company has been researching and developing livestock and pet products, as well as participating in research studies with significant partners. Throughout the business, Smart Tec Co.,Ltd. has participated in exhibitions and research contests both at local and abroads, resulting in rewards that can guarantee staffs' abilities to conduct research and to always generate new accomplishments and innovations for the company. The examples of such achievements are as follows:  .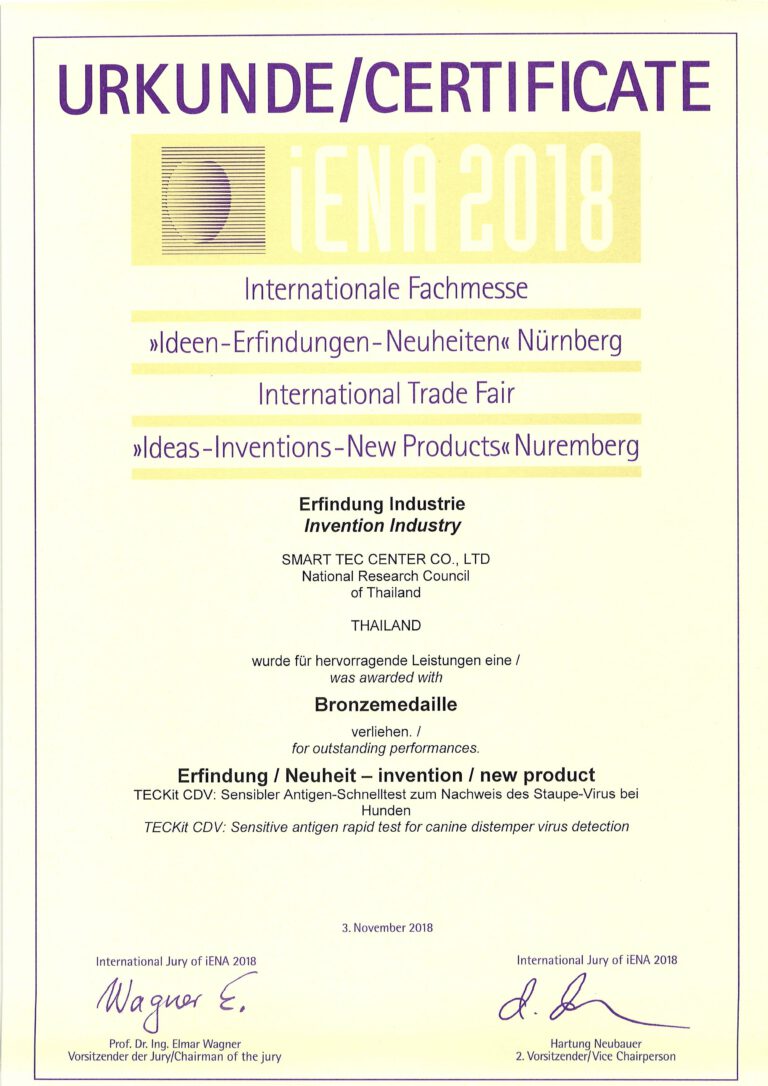 Bronzemedaille, Inventions
New Products  ปี 2018
Silver medal for innovative invention from International Trade Fair in Nuremburg, Germany, according to the Inflammatory bowel disease in dogs Test Kit instead of importation.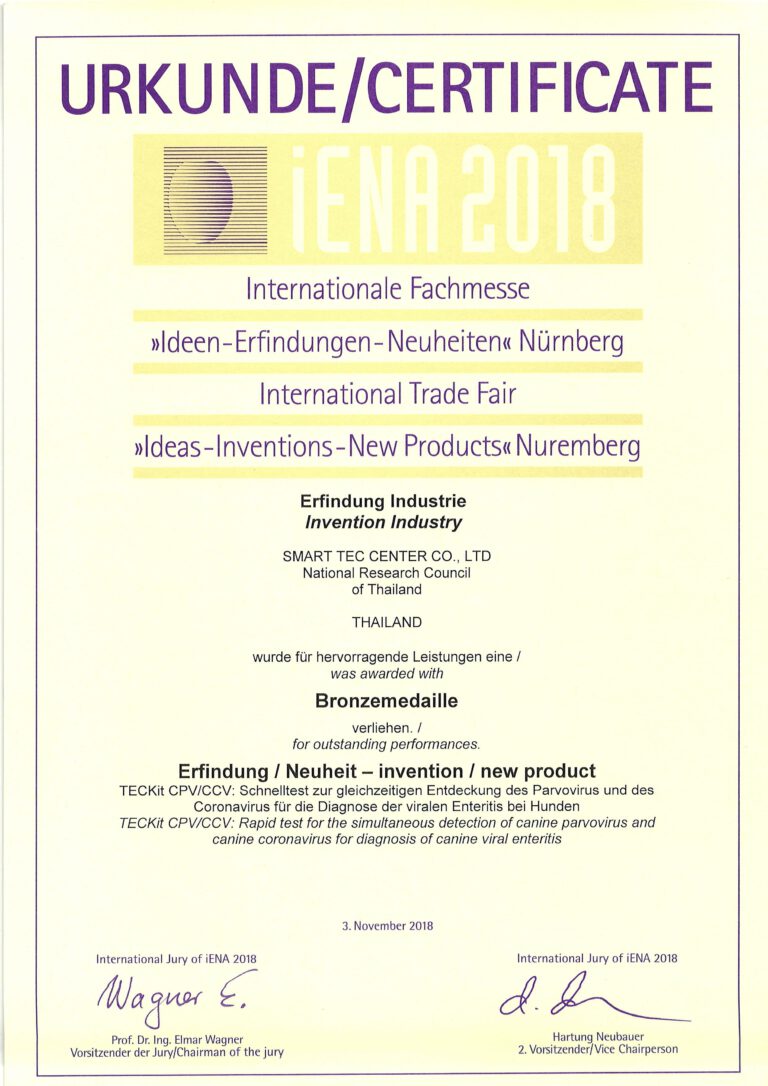 Bronzemedaille, Inventions
New Products ปี 2018
An award for artefact innovation from International Trade Fair in Nuremburg, Germany, according to the Canine Distemper Virus Detection Test Kit instead of importation.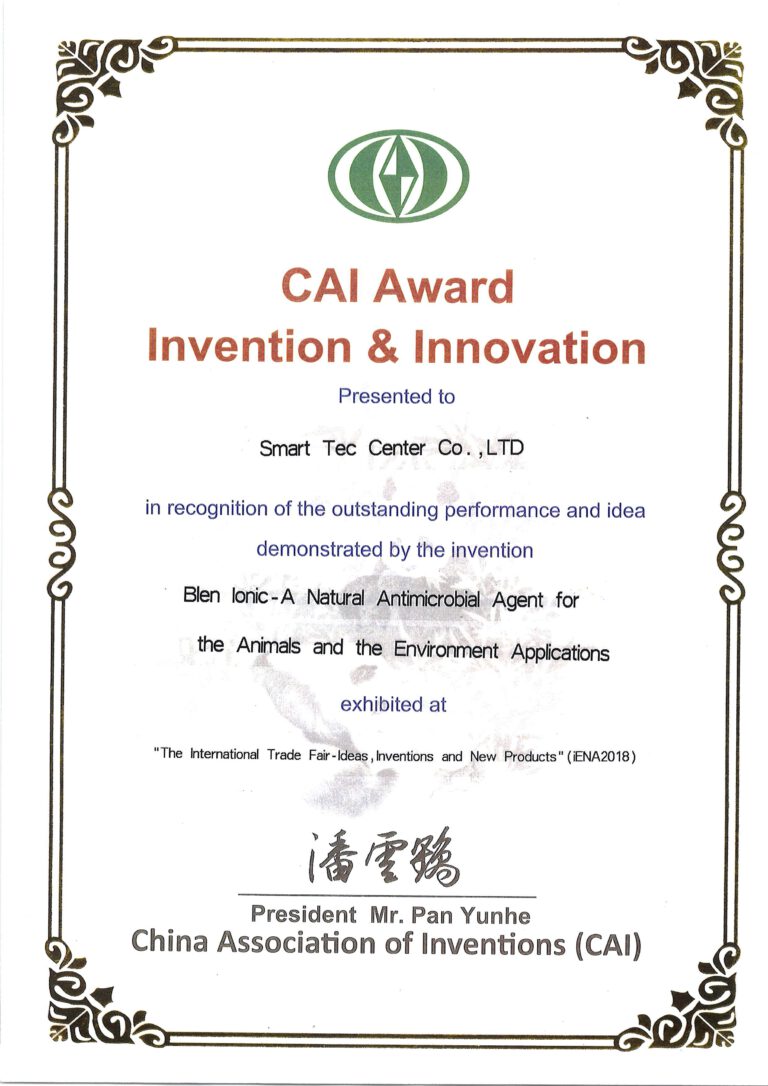 รางวัล CAI Award Invention
& Innovation ปี 2018
This award goes for Smart Tec Center Co.,Ltd. in leading nanotechnology for inventing natural substances than antibiotics.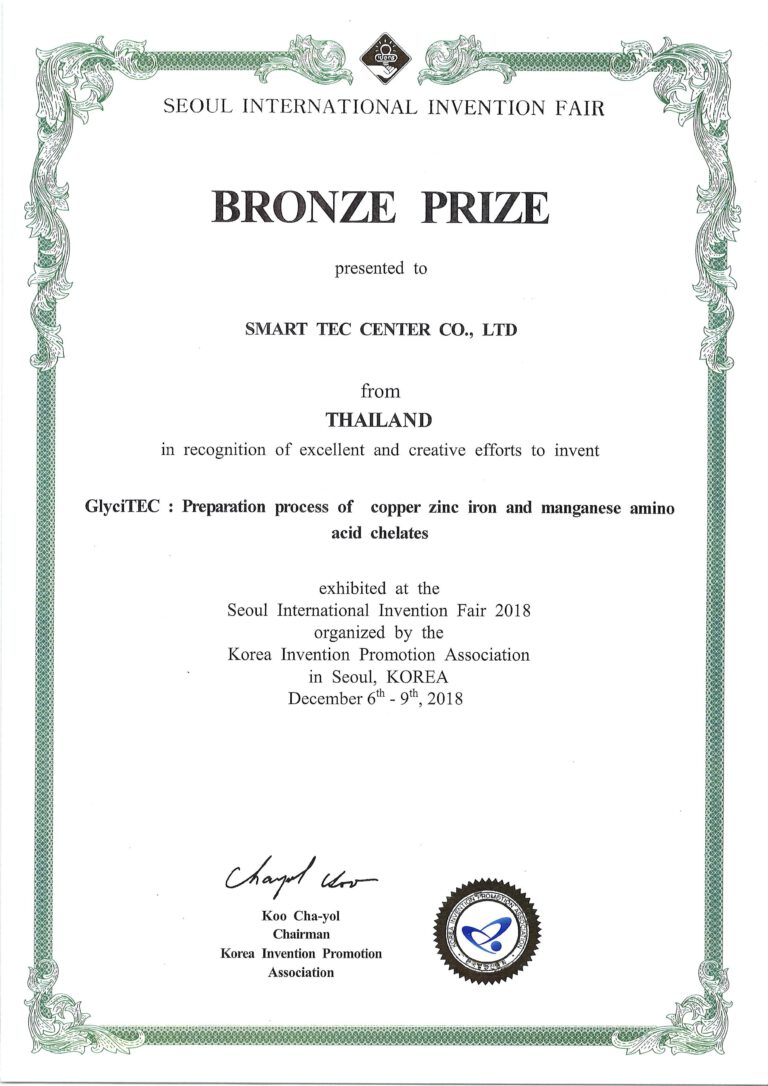 Bronze Prize, GlyciTEC : Preparation process of copper zinc iron and manganese amino acid chelates, Seoul International Invention Fair 2018, Korea
Silver medal from Seoul Exhibition, Korea in 2018 for a research on the production of mineral chelate, both powder and liquid instead of importation.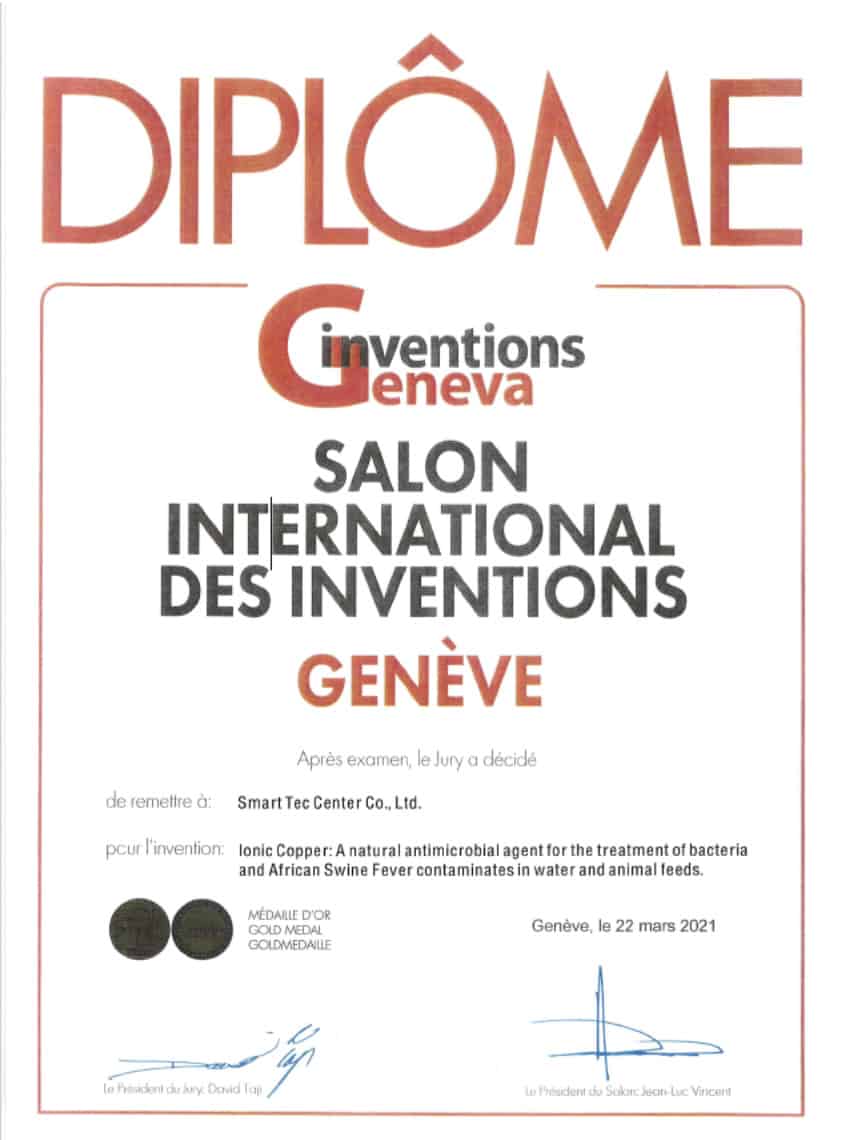 Salon International Des Inventions, Ionic Copper, Diplome Inventions Geneva
Innovation Award from Geneva, Switzerland according to a research on application of innovative Nano Copper to reduce bacterial contamination in water and feed ingredients, including African Swine Fever (ASF).